Chambres
CHAMBRES
By Pantani-Surace and Paolo Parisi
Until March 30, 2024
mH Florence Hotel
Florence, Via Luigi Alamanni 37
With the Chambres exhibition, the hotel mH Florence & Spa, located in the heart of the city, welcomes in its various internal and external environments, including the newly built lounge, the works – sculpture, painting, performance, photography, video, installation – of Anna Dormio, Lori Lako , Matteo Coluccia, Max Mondini, Mohsen Baghernejad Moghanjooghi and Stefano Giuri.
Chambres was born from the will of Irene Vezzosi, director of the mH Florence & Spa
e aims to create an exhibition opportunity for artists and students of the Italian Academies of Fine Arts, who have completed their training and are already distinguishing themselves internationally for the quality of their research.
It is a project curated by the artists (and teachers) Pantani-Surace and Paolo Parisi
, which will be renewed year after year with different works and protagonists.
The works of the artists involved will leave their mark inside the hotel, an open space, as already underlined, a crossroads for guests passing through, coming from different parts of the world, who stop in a window of time and then they come back to it, a continuously transforming space that changes depending on who inhabits it at that moment. And precisely with this in mind, Chambres can be visited 24 hours a day. They will be traces that will integrate and interact with the environments and with those who pass through them. The works, created specifically for Chambres, reflect this condition of movement, of different identities, of daily situations made of gestures, of randomness, of social experiences and customs, all elements that constantly live in a reality like that of a hotel.
The first of the signs of Chambres, visible from the outside, on the window of mH Florence & Spa, is that of
Max Mondini, Entogramma#1 (Filippo) (2023)
. A work that arises from a hybrid imagination, on the border between figuration and abstraction. The artist explores an extremely broad pool of sources, systematically reuses already existing images, draws from the society in which we live and the reality inhabited by each of us becomes, in this case, his archive. The installation, conceived ad hoc, allows the element positioned on the window to communicate with another in aluminum placed inside, as well as with the hotel guests and the other works on display.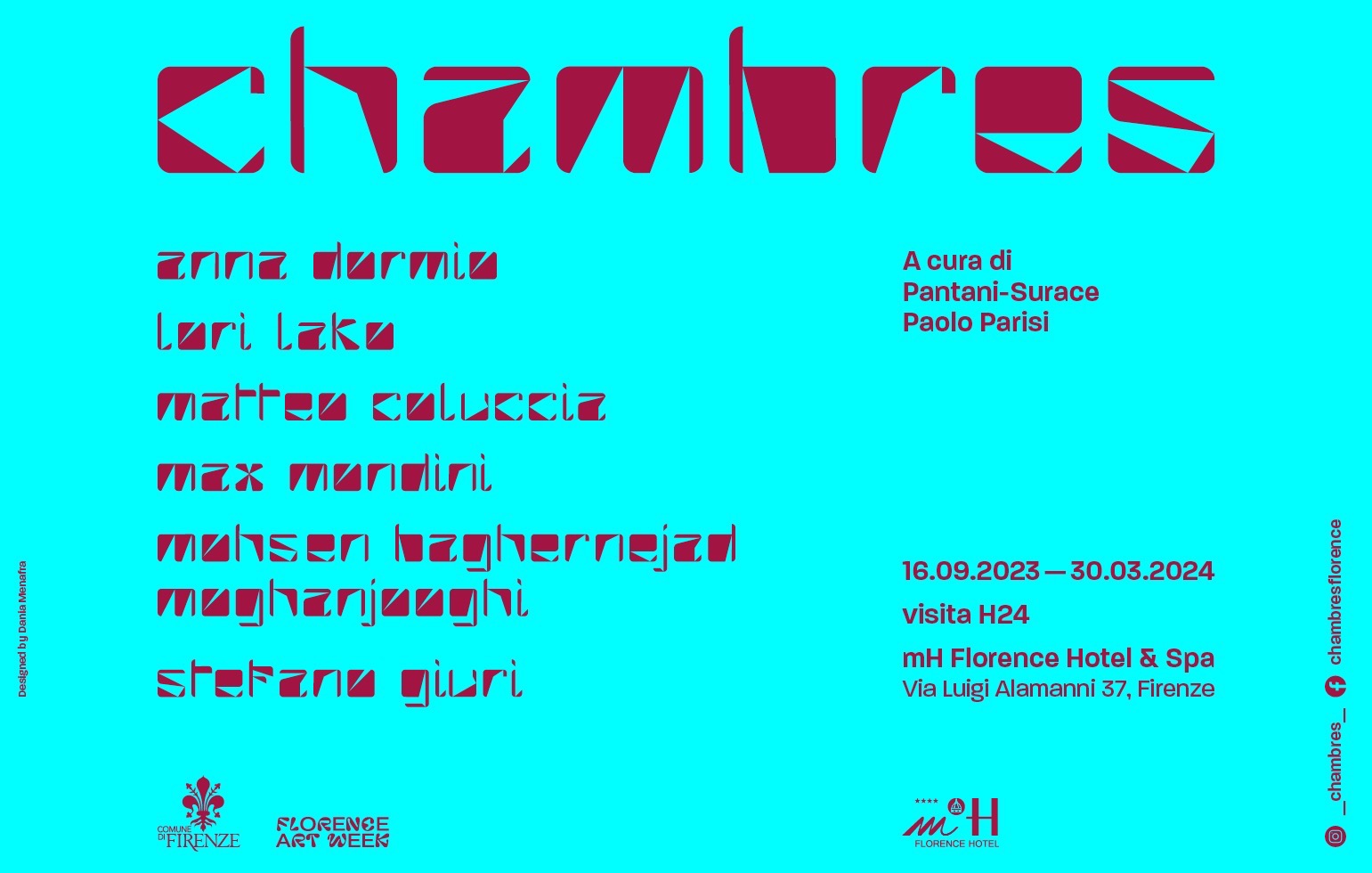 Poems until the Sheets Get Changed [Poesie fino a che le lenzuola non vengano cambiate] (2023)
, è il ciclo di opere concepite da Lori Lako che traggono ispirazione dalla poesia di Erica Jong Hotel Rooms. Si tratta di mise en scene realizzate all'interno delle camere di mH Florence & Spa, nell'intervallo di tempo tra il check-out del cliente della notte precedente e il check-in del successivo. Le camere sono luoghi di privacy temporanea con un continuo avvicendamento di attori, che l'artista mette in luce attraverso questi scatti inediti che saranno esposti nei pianerottoli di accesso ai quattro piani dell'albergo.
Through the technique that characterizes his practice, covering iron rods, typical architectural materials, with cement and copper sulphate,
Mohsen Baghernejad Moghanjooghi
creates sculptures that behave like plants: if wet, they become greens. In this context, it places two different works in relation: a sculpture,
Me and my brothers (2021)
, and an installation composed of a photograph and a sculpture in dialogue with each other,
Lilly si he was calling! (2022)
which introduce us to a human/non-human experience of the hotel's living spaces.
Anna Dormio
presents two series of works:
Boom Boom papa (2021)
and
Shooting Sky (2017/ongoing)
. The artist's father has an armory and the title of the first series evokes an expression of her childhood. The weapons, removed from their function here, take on a playful and "affective" presence, capable of arousing the memory of the father even within an alienating context. At the same time, you lightly address the issue of the growing spread of weapons and the militarization of Western society. The second series, composed of 16 polaroids, refers both to the photo shoot and to the English verb to shoot = to shoot. The sky, abstract, impalpable, immaterial, is "shot" with the "click" of the instant camera, obtaining a two-dimensional result: a photograph of the sky, in its day and night vision, to map a hypothetical temporal variety, forced between four margins. The skin of this simulacrum of the sky is then pierced by the brutality of a gunshot.
In the pictorial works of
Matteo Coluccia
, chosen for Chambres, from the
Good Morning, George (2021/2022)
series, the story of George is told, a man who wakes up morning, perhaps after a long sleep. The name has no particular meaning, and, as the artist tells us: it sounds good with the rest of the title. We find a broken dog that acts as guard and gives numbers, perhaps seven means something. A Golgotha re-emerges from the grass while a fire breaks out outside his flower garden. Everything is now blackened and appears in dim light, but some weeds still find the strength to flourish. Images apparently pleasant on an aesthetic level, even ironic, which however have their roots in a dark matter and which lead to a reflection on the existential condition.
Stefano Giuri
relates with public and more private spaces, works on collective and individual memory, addressing current social problems linked to the places in which he operates. For Chambres, he created a sculpture that will be placed from time to time in different rooms and which will activate a dialogue with the temporary inhabitants - the hotel customers - who will be faced with a crossroads at the time of check-out: purchasing the the work, produced in unlimited series, or decree its destruction. The remains of any destruction will be carefully preserved and put on display, thus constituting a new sculpture resulting from this relationship between the work and the hotel guests.